Brian uses the "scratchboard" technique to create many of his illustrations. Rather than adding black lines or paint to a white canvas or paper, he subtracts; it's almost like drawing in reverse. Starting with a white board covered in black ink, Brian uses sharp tools to scratch away the ink to expose the white board below, creating white lines that emerge to form the image he is trying to portray.

"Working in scratchboard is like drawing, etching, and sculpting all at the same time," says Brian.

He adds the color last, using a new technique by tinting the black-and-white images with Luma dyes, then painting on top of that with acrylic paint.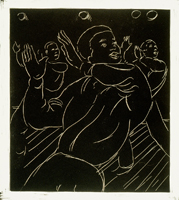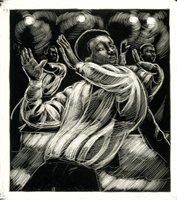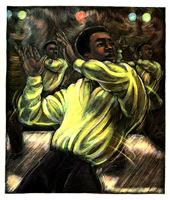 image from Alvin Ailey by Andrea Davis Pinkney, 1993




Favorite Food: Thai
Favorite Color: Indigo blue
Favorite Kid's Book: Where the Wild Things Are by Maurice Sendak
Favorite Grown-up Book: Another Country by James Baldwin
Favorite Time of Day: Midnight
Favorite Musician: Dizzy Gillespie
Hobbies and Activities: playing drums, dancing, tai chi, playing with my kids, reading




Brian is very busy drawing and painting and doesn't spend much time on the computer at all. For now, please only contact him about school visits (see below).




Yes, Brian does school visits! Please contact him for details about booking, fees, travel, and other guidelines at brianpinkneyart@gmail.com.




Brian is represented by Rebecca Sherman at Writer's House. All inquiries about book projects and rights should go to her at RSherman@WritersHouse.com.